1998, seems so long ago, doesn't it? I was only nine years old but I remember my dad turning on the television after dinner and tuning into ESPN. I remember being fascinated by the Sammy Sosa and Mark McGwire home run showdown. Maybe that's when my love of sports started. Those two were the faces of baseball. Duking it out to steal the home run record that only seemed to go back and forth. It seemed like it might never end. Sosa takes the lead, just kidding McGwire takes the league, just joking Sosa takes the lead again. Game after game after game fans tuned in to see what the pair was going to do next. In hindsight, it all seemed too good to be true and well, that's because it was. Possible corked bats and steroids were at the center of it all. Hey whether the guys cheated or not they put on a show and entertained us all and for that we should thank them.
Before we get to the nitty-gritty allow me to give you some background information on each player. Let's start with Sammy Sosa. Has anyone seen his recently by the way? It's like he's a whole different person, but I digress.
Samuel Peralta Sosa was born on November 12, 1968, in San Pedro de Macoris, Dominican Republic. Let skip very far ahead, shall we? On June 16, 1989 (Nick was only two days old, how adorable is that?) he made his Major League Baseball debut with the Texas Rangers as their starting left fielder. While with the Rangers he hit his first home run against Boston Red Sox pitcher Roger Clemens. His run with the Rangers would be short-lived. July 29, 1989, Sosa was traded along with Wilson Alvarez and Scott Fletcher to the Chicago White Sox. In 1992 The White Sox traded Sammy Sosa and teammate Ken Patterson to the Chicago Cubs. This is when Sosa began to show power and speed when it came to his hitting and in 1995 he was named to his first All-Star Game. After years as a respected power/speed threat with a rocket arm in right field, he emerged during the 1998 season as one of baseball's greatest. On January 28, 2005, the Cubs traded Sosa to the Baltimore Orioles. Sosa finished the 2005 season batting .221 with 14 home runs, his worst performance since 1992.
At the end of January 2006, the Washington Nationals offered Sosa two different minor-league offers, both of which he turned down. On February 15, 2006, Sosa's agent Adam Katz stated: "We're not going to put him on the retirement list. We decided that not putting him on that list was the best thing to do. But I can say, with reasonable certainty, that we've seen Sammy in a baseball uniform for the last time." Umm, isn't that what most people would call retirement? On January 30, 2007, the Texas Rangers signed Sammy to a minor league deal worth $500,000. This was the same contract that Sosa turned down the previous year from the Nationals. Ugh, the Washington Nationals, the team who must not be named. They are dead to me. DEAD TO ME! I'm still insanely salty about them trading Max Scherzer and Trea Turner. Especially since Trea very recently did such a saucy slide with the L.A Dodgers. It was the sauciest slide in MLB history. HE DIDN'T HAVE TO PUT THAT MUCH SAUCE ON IT!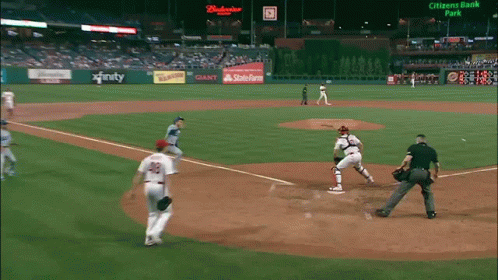 On April 26, 2007, Sosa made history by hitting a home run in his 45th major league ballpark. In June 2007. Sosa became only the fifth man in history, following Babe Ruth, Willie Mays, Hank Aaron, and Barry Bonds, to hit 600 regular-season home runs. Sosa is still the Cubs' all-time home run leader, having hit 545 home runs while he was with the team. On June 3, 2009, Sosa announced his retirement from baseball (for real this time). He made the announcement in his home country the Dominican Republic and stated that he was calmly looking forward to his induction into the Baseball Hall of Fame. Well, he was a confident fella, wasn't he?
We learned a little about Sammy. Shall we learn about Mark now?
Mark David "Big Mac" McGwire was born on October 1, 1963, in Pomona, California. We're just going to take a big leap into the future now. McGwire was selected 10th overall by the Oakland Athletic in the 1984 Major League Baseball draft. He made his MLB debut on August 22, 1986, and in May 1986 he hit a whopping 15 home runs with the team. Oh, and in June he hit 9. That same year he tied for the major league home run lead with Chicago Cubs right fielder Andre Dawson. McGwire's 49 home runs as a rookie stood as a major league record until "Big" Aaron Judge hit 52 for the New York Yankees (Go Yanks!) in 2017.
You guys have seen Judge right? He's a monster of a man standing at 6'7" and weighing 282 pounds. But he's still surprisingly fast. I have this weird thing about pointing out abnormally tall men. I blame Nick (who's 3 inches taller than Judge), anyway, from 1988 to 1990, McGwire followed with 32, 33, and 39 home runs, in that order, becoming the first Major Leaguer to hit 30 plus home runs in each of his first four full seasons.
Up until June 2009, McGwire was tied for third all-time with Joe DiMaggio in home runs over his first two calendar years in the major leagues (71), behind Chuck Klein (83) and Ryan Braun (79). Going to go off-topic here for a second but remember when Mark McGwire and Jose Canseco were the "Bash Brothers" when they were with the Oakland A's? They were both very prolific hitters and that is why they were given that name.
On April 21, 1997, McGwire became the fourth and final player to ever hit a home run over the left-field roof of Detroit's Tiger Stadium, joining Harmon Killebrew, Frank Howard, and Cecil Fielder. The insane home run was estimated to have traveled 491 feet. On July 31, 1997, the Oakland Athletics traded McGwire to the St. Louis Cardinals. He would remain with this team until his retirement in 2001. If you noticed I purposely skipped over the 1998 season for both players so I can tie it in with the home run record chase. In case you wondering, which, you probably weren't. You're smart people, you most likely figured it out on your own.
So, 1998 rolls around and it was time for first baseman Mark McGwire and right fielder Sammy Sosa to show up and show out, which they did. The center of the home run record race was Roger Maris's long-standing and highly coveted record of 61 home runs. Both men wanted to break it and for some reason, they both picked that year to give it a try. Speculation on the potential of McGwire or Griffey breaking Roger Maris' home run record was a popular story heading into spring training and was even promoted by MLB itself, to draw fans back to the game who still felt let down by the 1994 strike and cancellation of the World Series.
Damn, they didn't even have Sammy on the list, they were like it's going to be Mark McGwire, Kenny Griffey Jr., or no one. Big Mac opened the 1998 season by hitting home runs in each of his first four games. Which would ultimately find him ahead of record pace for all but two games of the season. After hitting 16 home runs that May McGwire led the league with 27 home runs, ahead of Griffey's 19 and on pace for more than 80. Sosa was just sitting in the corner biding his time, waiting for his moment to kick down the door and be like "WHAT THE F*** IS UP BITCHES?". Okay, maybe I'm being a little dramatic, but he was going to be there.
In June 1998, Sosa did show up and came to win. Sammy had 13 home runs entering that month, which was less than half of Marky Mark's. But that was no sweat off Sosa's back. On June 1st Samuel hit his first of four multi-home run games that month and went on to break Rudy York's record with 20 home runs in June. What did I tell ya? Sammy Sosa came ready to win. Oh, by the way, twenty-three years later Sosa's record still stands. By the end of his historic month, the outfielder's 33 home runs tied him with Griffey and left him only four behind McGwire's 37. Oh yeah, now shit is starting to get spicy. The three players remained competitive entering August, even though that was a period where McGwire would go on a season-high eight-game home run drought. Big Mac's lead had dwindled to being ahead by only 2 home runs, his 46 home runs just above Sosa's 44 and Griffey's 41. I have to stop calling him Big Mac because I'm already super hungry and I haven't had one of those in a long time. It's making my damn mouth water… I wish I was joking.
McGwire would go on to hit only 3 home runs in a span of 10 days, On August 19, he returned to his old self, hitting two home runs and beginning the stretch that would see him hit 23 home runs in his final 39 games. Meanwhile, Sosa had followed up his 20 home runs in June with a combined total of only 22 for July and August. At the end of the month, however, the two sluggers were locked at 55 home runs, putting them on pace for about 65 in total and, for the first time in 37 years, leaving the single-season home run record in imminent danger. DUN DUN DUUUUUN! By this time, Griffey's total of 47 home runs left him well behind the pace of his two rivals, indicating that even in the event he could pass Maris's total, it would be unlikely that he would also be able to beat McGwire and Sosa. Griffey would finish the season with 56 home runs, tying his total from the previous season but still 5 home runs short of Marris' record.
His September 5th home run set the stage for one of baseball's classic moments, as he sat on 60 home runs entering a two-game set against Sosa's Chicago Cubs. On September 7th, McGwire hit a pitch 430 feet to become the first player since 1961 to hit 61 home runs in a season. On September 8, 1998, in a nationally-televised game against Sammy Sosa's Cubs and with members of the Maris family in attendance, Big Mac hit a pitch 341 feet just over the left-field wall, breaking the record for the most home runs ever hit in a single season. Ladies and gentlemen, Maris's record had officially been broken. All these professional athletes say that the records they set are made to be broken and that it's the name of the game, but I often wonder if they get a little upset about it. I bet you $100.00 my dad was watching that game and remembers that moment. I should ask him.
The ball did not make it to the stand and was caught by Tim Forneris, who worked as a member of the Busch Stadium grounds crew. Forneris declined multiple million-dollar offers to sell the ball and instead gave it to McGwire. In what was a show of both admiration as well as respect. Admiration and respect my ass, give me my f money. Mark Grace, the Cub's first baseman shared a half-hug high five as McGwire rounded first, and after he touched home, Sosa ran in from the right field and engaged Mark in a celebratory embrace. Now that's just a phenomenal display of sportsmanship. Bravo! Afterward, McGwire would go six consecutive games without a home run, allowing Sosa to tie him again at 62 after hitting four home runs in three games against the Milwaukee Brewers.
The two players battled back and forth for the lead, and entering the final series of the season on September 25thj were tied at 65 home runs. Sosa hit a 462-foot home run while play against the Houston Astros for his 66th home run of the season. McGwire would answer by hitting five home runs against five different pitchers during a Cardinals homestand against the Montreal Expos and would set the single-season MLB home run record at 70 with a 370-foot home run. Throughout the season, Sosa gave the peace sign after every home run, dedicating it to the memory of Cubs broadcaster Harry Caray, who died that February.
On April 21, 1997, McGwire became the fourth and final player to ever hit a home run over the left-field roof of Detroit's Tiger Stadium, joining Harmon Killebrew, Frank Howard, and Cecil Fielder. The insane home run was estimated to have traveled 491 feet. On July 31, 1997, the Oakland Athletics traded McGwire to the St. Louis Cardinals. He would remain with this team until his retirement in 2001. I purposely skipped over the 1998 season for both players so I can tie it in with the home run record chase. In case you wondering, which, you probably weren't. You're smart people, you most likely figured it out on your own.
In 2001, only three years after McGwire and Sosa finally toppled Maris's record, the mark fell again, this time to San Francisco Giants left fielder Barry Bonds. Bonds broke the record on October 5th and 2 days later he hit his 73rd home run of the season. Bonds' record continues to stand today. The '98 home run record chase are widely credited by many sports analysts as having restored fans interest in Major League Baseball.
Now on to the good stuff. The Sosa-McGwire home run chase occurred during what had been dubbed the "steroid era" of baseball. In late 1998 an article by Associated Press writer Steve Wilstein claimed that McGwire admitted to taking androstenedione. Which is, you guessed it, an over-the-counter muscle enhancement product that had already been banned by the World Anti-Doping Agency. However, the use of the substance was not prohibited by the MLB at that time (just the NFL and IOC). Androstenedione was not federally classified as an anabolic steroid in the United States until 2004. Jump forward to 2005 when McGwire's former Bash Brother released his book Juiced: Wild Times, Rampant 'Roids, Smash Hits & How Baseball Got Big. In it, he wrote positively about steroids and made various claims against other MLB players. One of the claims was that McGwire had used performance-enhancing drugs since the 1980s and that Canseco had personally injected him with them. Damn, Canseco, you threw yourself and Mark under the bus. Why would you do that? Like why?
After the release of the book, McGwire and Canseco were among 11 baseball players and executives subpoenaed to testify at a congressional hearing on steroids. During his testimony on March 17, 2005, McGwire declined to answer questions under oath when he was brought before the House Government Reform Committee. Not a good look Mark, not a good look. In his opening statement (which in my opinion was full of crocodile tears) McGwire stated, "Asking me or any other player to answer questions about who took steroids in front of television cameras will not solve the problem. If a player answers 'No,' he simply will not be believed; if he answers 'Yes,' he risks public scorn and endless government investigations … My lawyers have advised me that I cannot answer these questions without jeopardizing my friends, my family, and myself. I will say, however, that it remains a fact in this country that a man, any man, should be regarded as innocent unless proven guilty."
On January 11, 2010, while on the Cardinals payroll as a hitting coach, McGwire admitted to using steroids on and off for a decade and said, He told reporters that, "I wish I had never touched steroids. It was foolish and it was a mistake. I truly apologize. Looking back, I wish I had never played during the steroid era." He admitted using them in the 1989/90 offseason and again after he was injured in 1993. He admitted to occasional use throughout the 1990s, including during the 1998 season. McGwire said that he used steroids to recover from injuries. Yeah, and I take antidepressants because I enjoy it. Nice try Big Mac, nice try. He still holds steadfast to his claim that he took steroids for health reasons rather than to improve performance. Mark McGwire has never admitted to using a corked bat during his phenomenal 1998 season and none have ever been found. But the suspicion is still out there.
Sammy Sosa sat alongside Rafael Palmeiro, Jose Canseco, and Mark McGwire in 2005 at the steroid hearing before Congress. His attorney testified on his behalf, stating, "To be clear, I have never taken illegal performance-enhancing drugs. I have never injected myself or had anyone inject me with anything. I have not broken the laws of the United States or the laws of the Dominican Republic. I have been tested as recently as 2004, and I am clean." He has not said much more in regards to his possible steroid use. But I think we all know the truth. In 2003 the bat Sosa had been using while playing against Tampa Bay shattered after connecting with a pitch. It's not uncommon for bats to break during games and is often overlooked since it's considered a pretty routine thing but this bat, oh this bat was special. This one bat was about to shatter Sosa's image forever.
When an umpire went to retrieve the bat, he noticed something odd about it, prompting him to call over Crew chief Tim McClelland and the rest of the umpires officiating the game. They all stood around the bat examining it and each of them noticed a piece of cork inside. McClelland told a reporter from the New York Times," I turned it over and there was a small, probably half-dollar-size piece of cork in the bat right about halfway down the barrelhead, I guess. It was notched in there. I felt it and it obviously was cork, so I called the crew together, and it was reminiscent of what happened about 20 years ago with me." McClelland was a rookie umpire behind home plate during the infamous pine tar incident with Kansas City Royals star George Brett in 1983. Sosa was immediately ejected from the game and was suspended for eight of the upcoming games. In 2010, the bat was auctioned off for $16,567. The league confiscated 76 of Sosa's bats after the incident. Coming from both the Chicago Cub's locker room and his personal collection. Five of Sosa's bats that sit in the hall of fame, including the one he used during the 1998 season were also later retrieved. After "extensive X-rays" all 76 bats were found to be clean. Deeming that the only bat that was corked had been the one that broke ok that fateful night.
Many fans including myself believe that Sosa had others corked bats the used, especially the one from the 1998 season. Regardless of whether it was or not many people felt let down by Sosa including, MLB officials, Chicago Cubs fans, fans of the sport in general, and Mark McGwire. Boy, you used steroids so, you should be disappointed in your damn self. Feeling like Sosa's career was almost like one big cheat.
Sammy Sosa became eligible to enter the Major League Baseball Hall of Fame in 2013 but he has not yet been voted in by the association or committee. Sosa's last shot at making it in will be in 2022 (each player is only allowed to appear on the ballot a total of 10 individual times). Mark McGwire became eligible for the Hall of Fame in 2006 and made his first appearance on the 2007 ballot. His ten times on the ballot have come and gone. In 2017 the MLB has decided to consider players who have either admitted to or have a high suspicion of juicing for the Hall of Fame. This is done on a case-to-case basis. Meaning that Sosa still has a shot of making it in as well as other players such as Roger Clemens, Jose Canseco, Barry Bonds, Rafael Palmeiro, Alex Rodriguez, Manny Ramirez, and others. I'm not sure what this means for players whose chance has passed. Maybe their cases will be reviewed and they will be allowed to try and enter again. This new rule has also made Pete Rose plead his case over and over again about how he should be allowed in. But I just don't see that happening. Remember he was banned from ever being entered after he was caught betting against his own team? I don't think any exceptions will be made for that guy.
At the end of the day, we could view the 1998 home run record chase a fraud. But it was a fun one and I don't think we will ever see anything like it again in our lifetime. Well, at least not in my lifetime. Then again…you never know.
Sources:
"Long Gone Summer" – CBS Sports
"Mark McGwire"- Wikipedia
"Sammy Sosa" – Wikipedia
"Sammy Sosa, Mark McGwire and what we should have known" – ESPN
"The 1998 Home run Race" – History of the 90a